Where to Buy Custom Size Curtains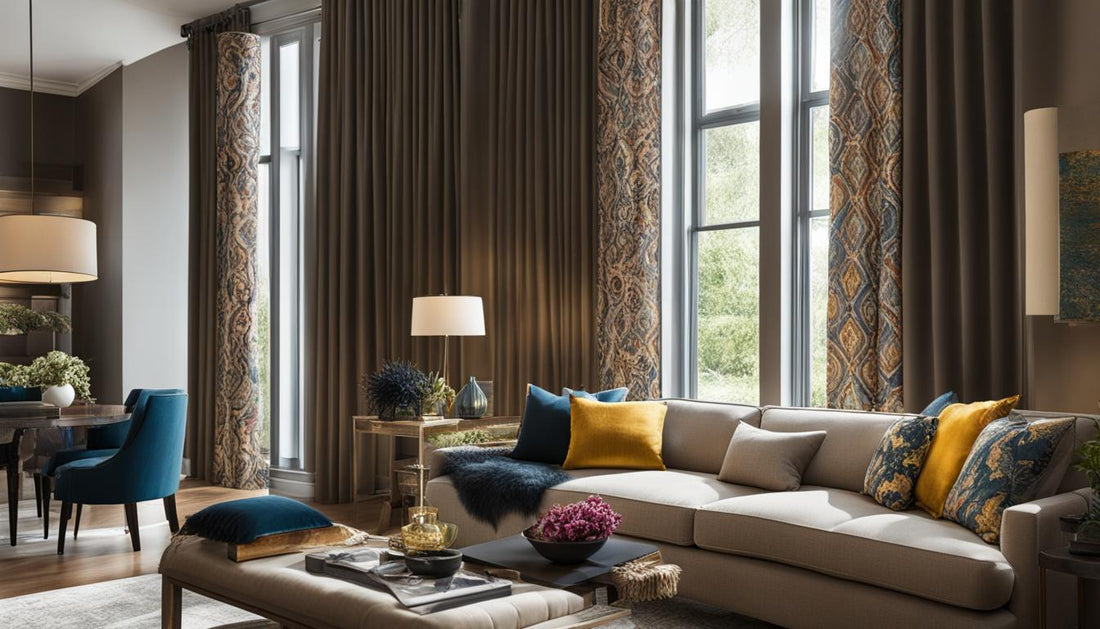 Hey there, I'm James from Dolcewe. I totally get how annoying it can be to find that perfect curtain fit - it can often end up a bit of a wild goose chase. The good news is, getting your hands on custom-sized curtains is now a walk in the park. There's a huge range of options available online and right in our stores, so getting that window fit is practically hassle-free.

Let me show you the best spots to snag those cusom-sized curtains, all to make sure you get that flawless fit for your home. Trust me, with my deep dive knowledge in home & decor, you're in good hands.
Key Takeaways:
Custom size curtains are a great way to ensure a perfect fit for your windows.
Shopping online provides a convenient way to browse and purchase custom size curtains.
Local stores offer a hands-on shopping experience and a wide range of custom size curtains.
DIY custom curtains provide an opportunity to design and create curtains to suit your exact specifications.
The Benefits of Custom Size Curtains
When it comes to decorating our homes, we often focus on furniture and accessories, overlooking the impact that curtains or drapes can have on a room. Custom size curtains offer a range of benefits that can enhance the overall look and feel of your space. 
Perfect Fit
The most significant benefit of choosing custom size curtains is that they will fit your windows precisely.
Standard-sized curtains may not fit your windows perfectly, leaving gaps or bunching that can be unattractive and let light in.
Custom size curtains, on the other hand, will provide a tailored fit that complements your window's dimensions.
Endless Options
Another advantage of custom made curtains or drapes is the almost limitless range of options available.
You can choose from various fabrics, patterns, colors, and designs, ensuring your curtains or drapes match your style and preferences. Whether you're looking for classic, traditional, or modern, custom curtains make it easy to create the perfect look for your home.
Quality Materials
When you choose custom size curtains, you can rest assured that the materials used are of the highest quality.
Many custom curtain manufacturers offer a wide range of fabrics, including linen, velvet, and cotton. You can select the right fabric for your specific needs, whether you need curtains that block out light or require a more delicate and lightweight material.
Unsure of the fabrics? Check our curtains fabrics guide for help.
Improved Energy Efficiency
Custom size curtains also offer the advantage of improved energy efficiency. When curtains fit your windows perfectly, they can help to reduce drafts and prevent heat loss, ensuring that your home stays warm in the winter and cool in the summer. This can lead to significant cost savings on your energy bills over time.
Added Value to Your Home
Finally, choosing custom size curtains can add value to your home. When you invest in high-quality curtains that fit your windows perfectly, you're enhancing the overall look and feel of your home. This can lead to increased resale value if you decide to sell your home in the future.
Overall, custom size curtains, whether curtains, drapes, or custom drapes, offer a range of benefits that make them a worthwhile investment for your home.
From the perfect fit to endless design options and improved energy efficiency, custom curtains are a smart choice that will enhance the overall look and feel of your space.
Online Retailers for Custom Size Curtains
Shopping online for custom curtains is a convenient and hassle-free way to find curtains that meet your specifications. Some great options for purchasing custom curtains online include:
| Retailer | Special Features | Price Range |
| --- | --- | --- |
| Dolcewe | Offers a wide selection of fabrics and styles | Starting $26.99 |
| Pepper-Home | Provides options for customizing the fullness of your curtains | $$$ |
| Twopages | Offers free shipping on orders over $50 | $$-$$$ |
These online retailers specialize in custom size curtains and offer a vast selection of fabrics, colors, and styles to choose from. Whether you need custom-made drapes or curtains with specific measurements, these retailers have got you covered.
Shopping online also allows you to browse and compare different retailers to find the best prices and deals for your custom curtains. Often, online retailers offer competitive pricing and discounts that you may not find in local stores.
So, when you're looking for custom curtains without leaving the comfort of your home, consider these online retailers. You'll find a vast selection of options, competitive pricing, and the convenience of home delivery.
Tips for Choosing Custom Size Curtains
When selecting custom size curtains, it's essential to consider factors that will impact the final result. From fullness to fabric choices, we've compiled a list of tips to help guide you through the decision-making process.
Fullness
Fullness refers to the amount of fabric used in relation to the window's size. Curtains can be either full or flat, with the former providing a fuller, more luxurious look.
A general rule of thumb is to have at least double the curtain's width for fullness. However, for a more dramatic effect, consider triple the width.
Fabric Choices
The fabric you select for custom size curtains will significantly impact the look and feel of the finished product. Choose fabrics that complement your existing decor and window style. 
Popular options include cotton, linen, silk, and velvet. Consider factors such as durability, maintenance, and light filtration when making your selection.
Size Guide
Accurate measurements are crucial for custom size curtains. Use a measuring tape to determine the height and width of your window, ensuring you account for any additional features such as moldings or trim. 
Check easy-to-follow size guides or curtains size calculator to help ensure a perfect fit.
Color
When selecting colors for custom size curtains, consider both the room's decor and the mood you wish to create. 
Neutral shades such as beige, gray, and white offer a timeless look while bolder hues like jewel tones can add a pop of color. 
Don't forget to consider how the curtain will look in natural versus artificial lighting.
Unsure of curtains color? Check our ultimate curtains color guide for help.
Pattern
Custom curtains offer the opportunity to showcase unique and eye-catching patterns. 
Consider the room's existing patterns and textures when selecting your custom curtain design. 
For example, if your furniture features bold prints, consider a solid color curtain or a subtle pattern for balance.
With these tips in mind, you can confidently select custom size curtains that will elevate your space's look and feel. Whether you opt for fullness, your favorite fabric, or a bold pattern, the result will be tailored to your precise specifications.
Local Stores for Custom Size Curtains
If you prefer a hands-on shopping experience, local stores offer a wide range of options for custom size curtains. Unlike traditional stores that only carry standard sizes, these stores have bespoke curtains for purchase to fit any window. Whether you need nursery blackout curtains, blackout curtains custom, drapery panels, or any window treatments, you can find them at these stores.
One of the benefits of shopping at local stores for custom size curtains is the ability to see and touch the fabrics before making a purchase. You can get a better sense of the texture, quality, and color that would best suit your space.
Another advantage is the personalized service offered by the staff. They can guide you through the process of selecting the right size, style, and fabrics to ensure you get the perfect custom curtains for your home. You can also request customized features, such as lining or tiebacks, to enhance the look and functionality of your curtains.
Overall, local stores for custom size curtains are an excellent option for those who value a personalized shopping experience and want a unique and tailored look for their windows.
DIY Custom Curtains
If you have a creative spirit and want to save some money, DIY custom curtains may be the perfect solution for your window treatment needs. Making your curtains can be a fun and rewarding experience, and you'll get the satisfaction of knowing that you created something unique and tailored to your specific style preferences.
You may check our ultimate curtains DIY guide. 
Tips for DIY Custom Curtains
Choose fabrics wisely based on their weight and quality.
Take accurate measurements to ensure the proper fit.
Use a high-quality sewing machine and tools.
Take your time and follow instructions carefully.
Consider adding embellishments for a custom touch.
Conclusion
We trust you're now more informed about the world of custom size curtains. The perfect set is out there, whether you choose the myriad of options available from online retailers, like us at Dolcewe, or prefer tactile, in-store shopping.

For those of you looking to showcase your creativity and savings prowess, DIY curtains could be your calling. But if luxury is more your style, bespoke drapery workshops offer something special.

Inclusive in your search should be factors like price and domestic or international shipping options. From custom sheer curtains to custom blackout curtains, custom-size curtains– like the wide array offered at Dolcewe – are the name of the game. We've got you covered with curtains in a variety of fabrics, colors, and patterns to fit your unique windows.

The best part? Prices at Dolcewe start at just $26.99. That's custom design without overstretching on budget.
The cherry on top of custom curtains lies in the power of choice: your ideal fabric, your perfect color, your chosen pattern. So, choose smart, enjoy the process, and love your custom curtains from Dolcewe!
FAQ
Where can I buy custom size curtains?
You can buy custom size curtains online or visit local stores. We have options for both preferences.
What are the benefits of custom size curtains?
Custom size curtains offer the advantage of a perfect fit for your windows, tailored to your specific dimensions and preferences.
Which online retailers offer custom size curtains?
Online retailers such as Dolcewe, Pepper-Home, and Twopages have a wide selection of custom curtains available to purchase.
Do you have any tips for choosing custom size curtains?
Yes, we provide helpful tips on factors to consider such as fullness, fabric choices, size measurements, colors, and patterns.
Are there local stores that sell custom size curtains?
Absolutely! Local stores offer a variety of custom size curtains, including options for nursery blackout curtains and custom drapery panels.
Can I make my own custom size curtains?
Yes! DIY custom curtains allow you to design and create curtains to suit your exact specifications.
What is a custom drapery workshop?
Custom drapery workshops, such as the one offered in Parkton, provide a unique and luxurious experience where you can explore a wide range of fabric options and window styles.
Can you provide a conclusion on purchasing custom size curtains?
In conclusion, finding and purchasing custom size curtains is easier than ever before. Whether you choose to shop online, visit local stores, or even create your own, you can enjoy the perfect fit and style for your windows.