The Ultimate Guide to Choosing Boho Curtains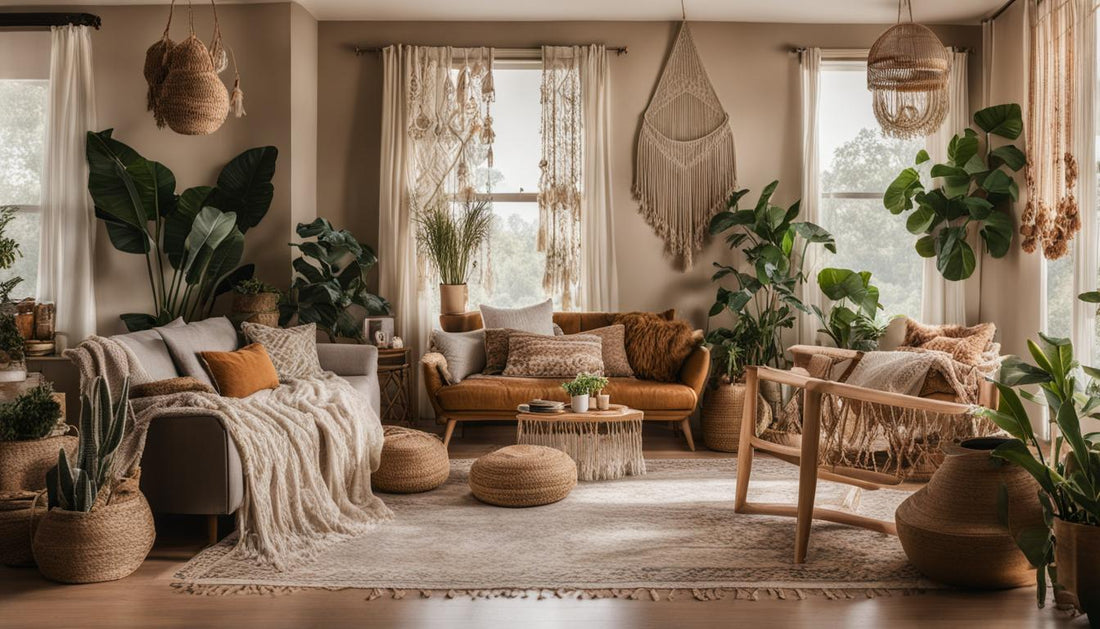 At Dolcewe, boho curtains are one of our passion projects. We love helping customers find the perfect bohemian curtains to match their style and decor needs. After years of experience designing and selling boho curtains, we've discovered the secrets to choosing the ideal curtains for a relaxed boho vibe.
In this ultimate guide, I'll share everything we've learned about selecting fabrics, colors, styles and hanging methods. Whether you're seeking airy linens, vibrant colors, or textured macrame, we've got you covered. Read on to give your windows a magical bohemian makeover!
Key Takeaways:
Boho curtains have natural, textured fabrics like linen, cotton, or macrame.
Vibrant, earthy hues and global patterns embody boho style.
Common boho curtain styles include embroidered, patchwork, sheer and beaded.
Hanging from wood rods or the ceiling has a dramatic boho vibe.
Boho curtains suit living rooms, bedrooms, dining rooms and home offices.
Dolcewe offers various custom-size boho curtains, starting $26.99
Introduction
Boho curtains reflect the carefree and artistic spirit of bohemian style. Characterized by natural materials, rich colors, and exotic patterns, these curtains add a touch of wanderlust to any room.
The boho design movement emerged in the 1960s and continues to gain popularity today. Boho curtains let you join this trend by bringing a bit of bohemian flair into your home. They provide an easy yet transformative way to express your creative individuality.
With so many fabrics, colors, and styles to choose from, it can be tricky to pick the ideal boho curtains. This guide will walk you through the key factors to consider for choosing window treatments that align with your personal taste and décor goals. Read on to give your home a bohemian revamp!
Understanding the Essence of Boho Style
To choose the perfect boho curtains, you first need to understand the origins and defining characteristics of bohemian style.
The Evolution of Boho
Boho style grew out of the hippie movement and gypsy subcultures of the 1960s. It embraced non-conformist ideals like freedom, artistic expression, and world cultures.
Today, boho maintains that artistic, unconventional spirit. It continues to be influenced by nomadic cultures like Morocco and India. The result is a globally-inspired style that feels carefree, artistic and a little rebellious.
Characteristics of Boho Decor
Some key elements that define the bohemian aesthetic include:
Natural Materials: Textures like cotton, linen, wool and macrame add an earthy, organic look.

Vibrant Colors: Rich, saturated hues like jewel tones, neon brights and earth tones evoke creativity.

Eclectic Patterns: Global prints with paisleys, batiks, ikats and embroidered motifs have a well-traveled vibe.

Handcrafted Details: Items that incorporate crochet, embroidery, beading or macrame have an artisanal appeal.

Layering and Mixing: Combining colorful patterns, textures and global elements creates visual interest. Check our layered curtains and ombre curtains.
Boho curtains encapsulate these qualities to infuse your windows with wanderlust inspiration. Their globally-influenced patterns, artisanal details and vibrant colors let you bring the free-spirited bohemian look into your home.
Choosing Fabrics for Boho Curtains
One of the best parts of boho curtains is the variety of natural, textured fabrics they offer. Here are some top options that align with the bohemian aesthetic:
Linen
Linen has a casual, laidback look that's perfect for boho style. From textured herringbone weaves to smooth voiles, linen offers durability and a breathable, lightweight drape. Its natural fibers give it a rumpled, beachy vibe.
Cotton
Cotton has a soft, breathable feel that provides comfort and casual elegance. Choose lightweight cottons like muslin or voile for billowing boho curtains. Printed cottons embody bohemian style with globally-inspired patterns and vivid colors.
Macrame
Intricately knotted macrame makes a major boho statement. This textured, handcrafted technique has a hippie chic vibe. Macrame's durability also makes it perfect for boho curtain panels.
Gauze
With its breezy, sheer weave, gauze has an ethereal, whimsical quality perfect for bohemian style. Layer gauze panels to control light filtration. For blackout capabilities, opt for cotton/polyester gauze blends.
Sheer Fabrics
Fabrics like chiffon, silk, lace and lightweight linens have a soft, billowy drape when used for sheer curtain panels. Their airy quality filters in natural light beautifully.
Experiment by layering different sheer fabrics to build the perfect boho window treatment. Keep functionality in mind depending on your light control and privacy needs.
By selecting natural, textured fabrics, you can emulate the cozy, relaxed vibe that defines bohemian decor. Don't be afraid to mix and match different materials for an eclectic, artisan-inspired look. Check our curtains fabrics guide for help.
Selecting Colors for Boho Curtains
The color palette you select for your boho curtains can dramatically impact the overall vibe. Rich, saturated hues and exotic global prints capture the style's essence.
Earthy Tones
Shades like mustard yellow, rust orange, avocado green and brick red represent nature beautifully. Earth tones add a sense of coziness and organic warmth.
Vibrant Colors
Pops of color in reds, purples, blues, and pinks make a bold statement. Neon brights also align with boho's creative and non-conformist character.
Cool Tones
While less common, soft blues, grays and mauves can provide a laidback contrast next to warm boho prints. They prevent brightly colored rooms from becoming too overwhelming.
Global Prints
Patterns like ikat, batik, paisley and floral Prints embody the wanderlust spirit of bohemian style. Moroccan tiles, Indian block prints, Persian carpets all inspire gorgeous boho motifs.
Don't be afraid to combine patterns and colors for an eclectic boho look. Contrast vibrant Indian block prints with soft linen in relaxing grayish blue. Layer sheer panels with delicate floral chiffon over bold magenta cotton. Creating harmony from contrasting colors and patterns is an art of bohemian decor.
Types of Boho Curtain Styles
From intricately detailed to light and airy, boho curtains come in endless styles. Here are some of the most popular options:
Macrame Curtains
Intricately hand-knotted macrame curtains feature impeccable textured details. Made from natural jute, cotton or hemp, macrame's durability makes it perfect for hanging in doorways and large window panels. A fringe often finishes the bottom edges.
The intricate knots create beautiful woven patterns reminiscent of bohemian tapestries. Macrame's neutral earth tones beautifully complement colorful accent pillows, rugs and wall art.
Delicate embroidered designs look as though an artisan hand-stitched them. Beautiful floral motifs, geometric patterns and global inspiration elevate any space. Sheer linen or cotton base fabrics ensure sunlight filters through the intricate needlework.
Embroidered panels allow you to incorporate artisanal craftsmanship into your boho oasis. For an added pop of color, look for embroidery in vibrant, saturated hues.
Patchwork Curtains
One-of-a-kind patchwork curtains came together through multiple recycled fabric pieces. Their ovular, triangular and irregular shaped patches create whimsical asymmetry.
Different prints, patterns, textures come together like an eclectic quilt. Fringe trim and pom pom or tassel ties complete the playful, laidback look. Patchwork curtains make a sustainable boho-chic statement.
Sheer boho curtains feature lightweight, gauzy fabrics like silk, linen, lace or chiffon. Their soft, billowing shapes filter in natural sunlight for an ethereal effect.
Layer sheer panels behind textured curtains to control light and privacy. Sheer under-curtains also help insulate windows by creating an air pocket. For a relaxed boho vibe, opt for off-white, light gray or beige sheers.
Beaded Curtains
For the eclectic bohemian, beaded curtains add a playful pop of texture. Strands of beads stitched together create a tactile, dazzling statement. Hung as dividers in doorways or windows, they attract attention through their shine and sound.
Boho beaded curtains come in every color, from neon brights to neutral earth tones. Look for wooden beads for an organic accent or metallic beads for added glamour. Their light-catching quality livens up any space!
By playing with different fabrics, details and shapes, you can find the perfect boho curtains to revamp your windows. Whether you love intricate macrame, breezy sheers or colorful patchwork, there's a style to match your personal taste.
Hanging and Mounting Boho Curtains
To complete your bohemian window treatment, you need the perfect hanging method. Use curtain rods, sconces and other hardware that complement the style's natural elements. Here are some ideas:
Wood Rods
Wood perfectly complements boho curtains' organic vibe. Stained wood rods match any color palette. For a basic window, use a straight rod. Try a curved rod over a bay window or corner nook to enhance the architecture.
Rustic bamboo rods or branches also has an earthy appeal. Paint, stain or leave unfinished for different looks. Add matching wood rings or clip curtain hooks to continue the nature theme.
Macrame Tie-backs
Intricately woven macrame tie-backs pull boho curtains to the side with textural charm. Pom pom or beaded tassels suspend from each tie for a playful accent.
Position tie-backs around 25-30% in from the ends of the rod. For floor-length curtains, place lower near the base. Allow ample fabric to stack attractively on the sides when open.
Ceiling Mounts
To make a dramatic statement, hang boho curtains from hooks in the ceiling. This creates the illusion of a floating, ethereal installation.
Use strong metal hooks and rings to attach fabric panels securely to the ceiling. Concentrate anchors where curtain weight will fall. For extra visual impact, mount curtains wider than the window itself.
By using natural, complementary hanging methods, you can complete your boho curtain look. Carefully measure windows and allow ample fabric for the relaxed, billowing shape characteristic of bohemian style.
Styling Boho Curtains in Different Rooms
A room's size, purpose and existing decor impact how you style boho curtains. Follow these tips to accentuate the boho magic in any space:
Living Room
As the heart of the home, the living room deserves special treatment. Make a bold statement with contrasting colorful curtains and vibrantly patterned accent pillows. Introduce wooden furniture, rugs and greenery for an inviting boho ambiance.
Use sheer curtains to allow ample natural light. For movie nights, add a blackout curtain behind for versatility. Hang curtains wider than the window and high near the ceiling to highlight tall ceilings.
Bedroom
Your personal oasis deserves a peaceful, relaxed look. Neutral earth tones promote restfulness. Lightweight, airy linens filter sunlight beautifully. Add texture with macrame and woven throws.
In small bedrooms, choose narrow side panels instead of wide curtains to avoid overwhelming the space. Soft muted colors help enlarge and elongate rooms. For total darkness, utilize a blackout lining or layered look.
Dining Room
Make mealtimes more inviting with elegant, sophisticated curtains. Look for intricately patterned fabrics like jacquard or damask. Metallic sheers or embroidered mesh offer lightweight privacy.
Frame windows with eye-catching curtains. Complement them with matching table linens for a pulled-together dining space. Incorporate wooden chairs, tabletop greenery and a crystal chandelier.
Home Office
Surround yourself with inspiration for creativity and productivity. Choose bold, energizing colors to stimulate the mind. Opt for whimsical details like pom poms, tassels or fringe.
Hang lightweight curtains high near the ceiling to draw eyes up. Allow natural light from sheers or blended fabrics to reduce eye strain. Add woven baskets, art prints and books to finish your inspiring refuge.
Whether you want to entertain, relax, dine or work, boho curtains create the optimal ambiance. Let your room's size and purpose guide you in making the perfect style choices.
DIY Boho Curtain Projects
Looking to save or spice up basic curtains? Embrace your creative spirit with some easy DIY boho curtain projects!
Gather Materials
First, purchase curtain panels, rods and hanging hardware to suit your space. Complement with fabric for any additional details: tassels, fringe, pom poms, embroidered patches, sari scraps, macrame strips.
You'll also need scissors, fabric glue, a hot glue gun, needle and thread. Make sure all fabrics are pre-washed to prevent shrinking.
Choose Patterns
Select a base curtain fabric and color that fits your room. Printed cottons or linens work great for absorbing other details. Choose fun, colorful patterns for any accent fabrics you'll attach.
Cut and Attach Embellishments
Cut tassels, fringe, pom poms or other trims to desired lengths. Use fabric glue or hot glue to attach ends to curtain tops or edges. For lighter embellishments like patches or embroidery, firmly hand-stitch to the base fabric.
Add eclectic details sporadically for an artfully random effect. Focus on curtain edges, hems, corners and specific motif areas. Layer colors and textures of trims for extra dimension.
Mount and Hang
Once your DIY boho curtain is complete, mount your curtain rod according to the length and width needs. Carefully hang each panel using rings or hooks spaced a few inches apart for stability.
Steam or press panels to remove any wrinkles. Your custom boho curtains are now ready to transform your windows into a breathtaking focal point!
Adding handcrafted details like tassels or colorful patches allows you to put your own creative stamp on basic curtains. Trims can also revive old curtains and give them new life.
Conclusion
Boho curtains present a beautiful opportunity to embrace color, texture and imaginative details from around the world. By considering your space, style and lighting needs, you can choose the perfect curtains to launch a full bohemian decor transformation.
Experiment with different natural fabrics, global patterns, and embellished accents to make a bold style statement. Use wood, macrame and ceiling mounts to finish the look. Whether in your living room, bedroom, dining room or office, boho curtains infuse wanderlust inspiration into any space.
At Dolcewe, we offer a wide selection of boho curtains in various materials, prints, and embellishments.
From colorful cottons to light and airy macrame, you're sure to find the perfect curtains to complement your style. The best part? We offer custom sizes for all our curtains, starting at just $26.99. Shop our custom curtains today!
FAQ
What types of boho curtains are available?
There are various types of boho curtains to choose from, including bohemian-style curtains, window treatments, and curtains made from natural fabrics.
How do I choose the right boho curtains for my living room?
When choosing boho curtains, consider factors such as color and pattern, privacy level, and fabric preferences.
What are some styling tips for boho curtains in my living room?
Consider layering curtains, mixing patterns, and accessorizing with tie-backs to create a boho-chic ambiance.
Where can I find boho curtain ideas and inspirations?
You can find boho curtain ideas and inspirations online from popular stores like Dolcewe, Etsy, and Amazon.
How can I mix and match boho curtains with other elements in my living room?
You can mix and match boho curtains with other boho decor elements such as macrame wall hangings, woven baskets, rugs, or throw pillows.
How do I maintain and care for my boho curtains?
Follow the manufacturer's instructions for cleaning and maintenance, avoid direct sunlight and excessive heat, regularly dust or vacuum your curtains, and store them correctly when not in use.
What are the benefits of using boho curtains in my living room?
Boho curtains can add a boho-chic ambiance and transform your living room into a stylish and inviting space.