Discover the Secrets to Stunning Large window curtain ideas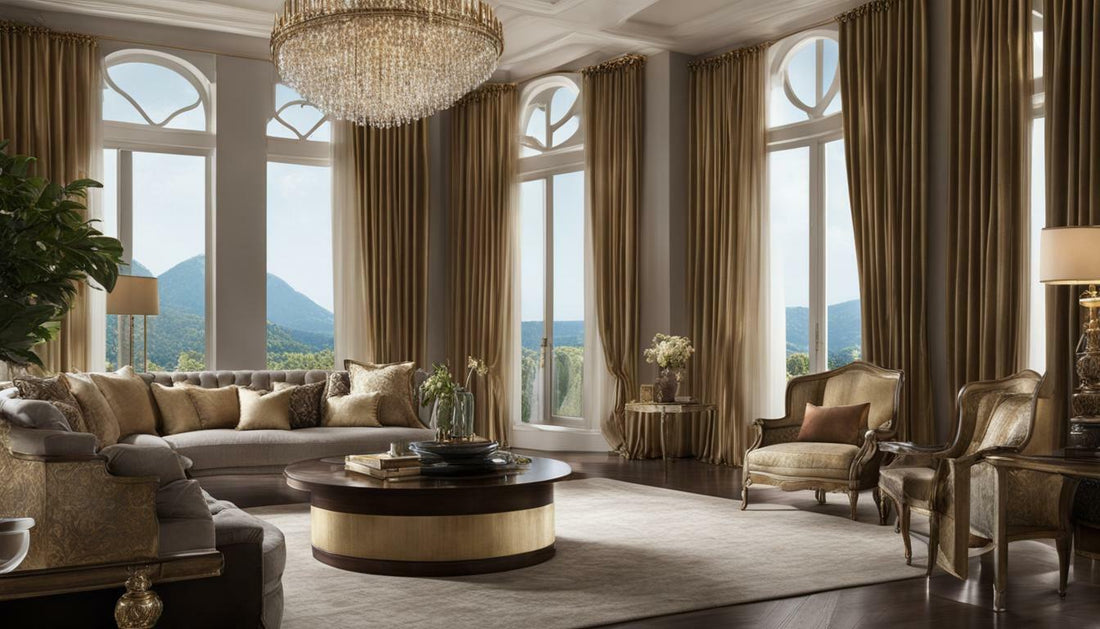 Welcome to our guide on large window curtain ideas! Dressing up large windows can be a daunting task, but it doesn't have to be. With the right fabrics, patterns, and techniques, you can create a stunning window treatment that elevates the look and feel of your space. Whether you're looking for custom curtains or creative layering options, we've got you covered.
Key Takeaways:
Choosing the right fabrics and colors can make a big difference in the overall look of your window treatment
Custom curtains are a great option for achieving a perfect fit for your large windows
Layering curtains and blinds can add depth and dimension to your space
Coordinating your window treatment with the rest of the room can create a cohesive and harmonious look
Don't be afraid to embrace bold patterns and colors to add drama to your large windows
Custom Curtains for a Perfect Fit
At times, finding the perfect curtains for large windows can be a daunting task. The off-the-shelf choices may not fit your windows perfectly, leaving you with an unflattering end result. However, with custom curtains, you can design curtains that fit your windows precisely.
Custom curtains offer you the flexibility to choose the fabric, design, and style that best suits your taste. Do you have a specific color scheme you want to follow? No problem! You can choose from a wide range of fabrics, such as silk, velvet, cotton, and linen, among others.
Additionally, you can tailor your curtains to match your room's specific measurements. For instance, if you have tall windows that require a specific length of curtains, custom curtains are the way to go. 
You can get started by working with a custom curtain designer who will guide you through the process of creating your dream curtains. Ensure that you select a designer who has experience creating curtains for oversized windows and can advise you on the right fabric, style, and length. At Dolcewe, all curtains available in custom size to fit all unique windows. The best part? All curtains are starting at $26.99.
When it comes to curtain design ideas, custom curtains are an excellent choice for those looking to achieve a tailored and elegant look for their homes. Consider investing in custom curtains that will give your windows a polished, professional look that complements your décor and style.
Embrace Lightweight Fabrics
Large windows are a blessing, allowing natural light to enter and brighten up your space. To enhance this feature, consider selecting lightweight fabrics for your curtains. Linen, voile, and gauze materials are perfect for creating an airy and elegant atmosphere in your room. These fabrics let natural light filter through and offer a light and breezy feel to your windows.
Sheer fabrics, in particular, are a popular choice for their delicate and romantic appearance. They soften the sunlight that streams into your space and create a dreamy effect. Additionally, they are versatile and can be paired with heavier fabrics to add depth and texture to your window treatment.
When selecting your lightweight fabric, consider the color and pattern of your curtains. Monochromatic tones and simple patterns can add a modern and clean look to your space, while bolder prints and colors can create a statement and add visual interest to your windows.
Overall, incorporating lightweight fabrics into your large window curtains is a great way to enhance the natural light in your space and create a relaxing and inviting atmosphere.
Add Drama with Bold Patterns and Colors
When it comes to dressing up large windows, bold patterns and colors can make a big impact. Whether you prefer vibrant prints or striking geometric designs, incorporating bold elements into your curtains can create a stunning focal point in your space.
For contemporary curtain ideas for tall windows, consider using curtains with bold patterns like chevron, stripes, or Moroccan prints. These patterns can add a touch of playfulness to your space while still maintaining a chic and sophisticated look. Additionally, rich and deep hues like emerald green, navy blue, or marsala can make your large windows stand out and complement the rest of your decor.
Tip: When using bold patterns and colors, it's important to balance them with simpler elements in the room. Consider pairing bold curtains with neutral walls and furniture to avoid overwhelming the space.
If you're looking for curtain trends for oversized windows, bold patterns and colors are definitely on the list. These eye-catching curtains can easily become the centerpiece of any room and make a lasting impression on guests.
Note: When using bold patterns and colors, be sure to choose curtains that are made with high-quality fabrics to ensure longevity and durability.
Layering Curtains and Blinds
When it comes to large windows, finding the right balance between style and functionality can be a challenge. Layering curtains and blinds is a practical and stylish solution that gives you the best of both worlds.
By combining curtains and blinds, you can control the amount of sunlight entering your space while adding depth and dimension to the overall design. Sheer curtains with blinds, for example, can create a layered look that offers privacy without compromising on natural light.
When choosing curtain options for oversized windows, consider layering with blinds for a dramatic effect that draws attention to your stunning window treatment. This layering technique is one of our favorite stylish curtain ideas for oversized windows.
When it comes to curtain trends for oversized windows, layering curtains and blinds is a classic choice that never goes out of style. Pair your curtains with sleek and modern blinds to achieve a stylish look that complements any decor.
Enhance with Valances and Tiebacks
Valances and tiebacks are excellent decorative elements to add a touch of sophistication to your large window curtains. They can bring out elegance and give your curtains a polished finish. With valances, you can achieve a chic and seamless look by hiding the curtain hardware and creating a neat appearance at the top of the curtains.
For a unique style, try using tiebacks. Tiebacks provide an effortless way to draw the curtains aside, revealing your stunning windows. You can choose from various types of tiebacks to suit your style, such as tassels, fabric strips, or ropes, among others.
When it comes to choosing valances and tiebacks, there's no shortage of options. You can opt for bold, statement pieces or subtle, simple designs that complement your curtains and overall decor. The key is to select elements that blend seamlessly with your curtains and create a cohesive look.
Don't be afraid to get creative with your valances and tiebacks. You can mix and match different textures, colors, and patterns to create your unique style. By experimenting with various elements, you can transform your large window curtains into a stunning masterpiece.
The Fuller, The Better
When it comes to dressing up large windows, curtains with generous fullness can create a luxurious and voluminous look. The fuller, gathered fabric adds depth and drama to your space, making a statement with your window treatment.
For elegant curtain styles for large windows, opt for curtains that are wider than the actual window. This will create a high-end, polished appearance that draws attention to the grandeur of your windows. Plus, the excess fabric also helps to block out unwanted light and noise.
When it comes to stylish curtains for big windows, the fuller, the better. This voluminous style is especially fitting for formal living rooms or dining areas, where you want to create a sense of grandeur and sophistication.
With the right design, full curtains can also work beautifully in more casual spaces. Consider light, airy fabrics like linen or sheer materials for a breezy and relaxed feel. When it comes to curtain styles for large windows, fullness adds a touch of elegance and glamour that can't be achieved with more minimalist designs.
Layer Up On Sheer Curtains
For those who love a light and breezy look, sheer curtains are a great option. They let natural light filter in while creating an elegant and ethereal atmosphere. But why settle for just one layer of sheer curtains when you can have two or more?
Layering sheer curtains is a creative and modern way to dress up your large windows. Not only does it add depth and texture to your space, but it also allows you to control the amount of light that enters the room. Plus, it's an opportunity to showcase your personal style with different colors, patterns, and fabrics.
To layer up on sheer curtains, start by hanging a set of sheer curtains that are slightly longer than the window frame. Then, add a second layer of sheer curtains on top, either in a different color or pattern, or the same fabric to create a fuller look. You can even add a third layer of sheers for even more dimension.
When layering sheer curtains, consider the tone and mood of the room. Bright and bold colors can add a fun and playful vibe, while soft and neutral hues create a calm and relaxing atmosphere. Don't be afraid to mix and match different fabrics and patterns to create a unique and stylish window treatment.
Whether you're looking for creative curtain ideas or modern curtain ideas for big windows, layering sheer curtains is a versatile and elegant option that will make a big impact.
Go Blackout for Bedrooms
When it comes to creating a cozy and serene atmosphere in the bedroom, curtains play a vital role. For oversized windows in bedrooms, we recommend opting for blackout curtains. These curtains block out external light, which not only provides privacy but also helps to regulate room temperature and create an ideal sleeping environment.
Blackout curtains come in a variety of elegant designs and colors, making them a stylish addition to your space. They are also an excellent choice for wide windows as they have a custom fit option to ensure their functionality and style perfection. You can choose from a range of fabrics, including velvet, silk, and linen, to complement the rest of your decor.
For a unified look, consider matching the curtain colors with other elements in the room, such as bedding and furniture. Alternatively, you can add a pop of color or pattern to your curtains to create a focal point in the bedroom.
Investing in blackout curtains for your large windows is a smart choice that will benefit both the aesthetics and functionality of your space. Create a soothing environment where you can relax, rest, and recharge with elegant curtains that perfectly fit your oversized windows.
Tie in Colors from the Rest of the Room
When it comes to choosing the perfect large window curtains, tying in the colors from the rest of the room can create a cohesive and harmonious look. You can either match the curtain colors with other elements in the room or choose complementary hues to add visual interest and tie the space together.
For example, if your room has a blue and white color scheme, consider choosing curtains with a similar color palette. This will create a seamless transition between the walls, furniture, and window treatments, making the space feel well-designed and polished.
Alternatively, you can choose curtains with a contrasting color to create a statement piece in your room. This can be a great way to add visual interest and draw attention to your large windows.
Whatever color scheme you choose, make sure it complements the overall decor of your room and enhances the beauty of your large windows.