Fresh Camper RV Curtains: Ideas & Tips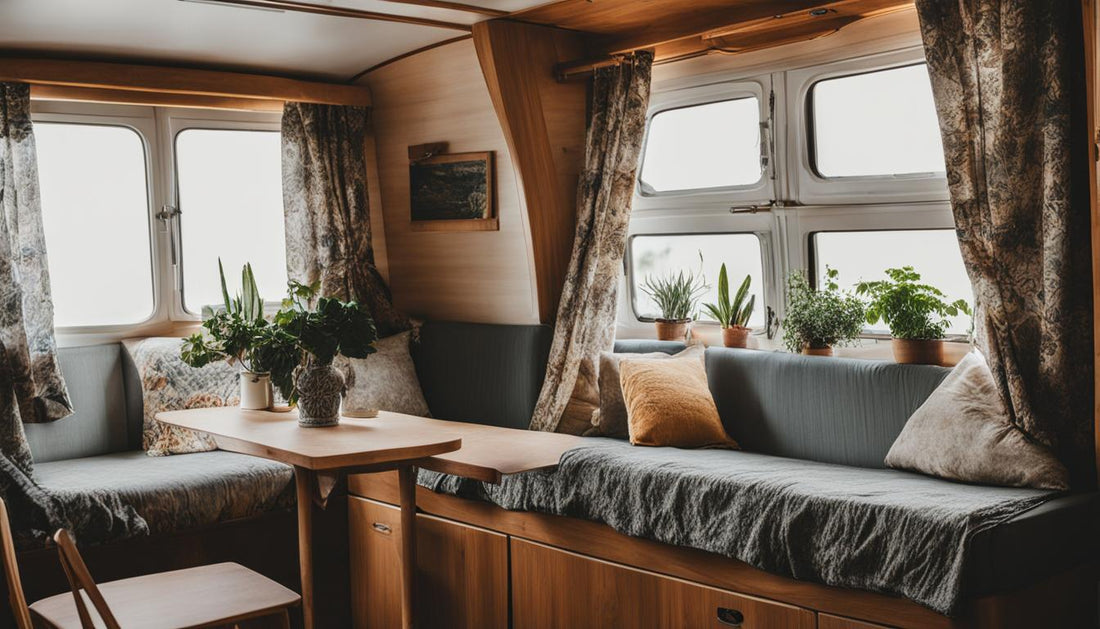 Your camper RV curtains play a key role in making your mobile living space feel cozy, stylish, and customized to your taste. The right window treatments not only provide privacy and help control light, but also allow you to add personality and style to your camper interiors.
In this comprehensive guide, we'll explore everything you need to know about choosing and installing curtains and other window treatments for your recreational vehicle. 
Key Takeaways:
Curtains play an important role in RV comfort by controlling privacy, light, insulation, ambiance and personalization.

Main curtain types for RVs are tiers, cafes, pleats, blackouts and blinds. Popular fabrics include polyester, cotton, linen, microfiber and faux silk.

Bedrooms benefit from blackouts, living rooms from tiers and blinds, kitchens from vinyl and ginghams, bathrooms from vinyl and microfibers.

Custom RV curtains can be purchased made-to-order from Dolcewe starting at $26.99. 

Special rods and mounting methods work best for hanging curtains in an RV. Use adhesive hooks, tension rods and tiebacks.

Maintain curtains by frequently treating stains, washing properly for material, and checking for mildew in humid spaces.

With the right curtains and installation, you can customize your RV to feel cozy, stylish and uniquely you!
Why Curtains Matter in a Camper RV
When you're working with a small living space like a camper, every detail counts in making it feel like a comfortable home. Window curtains are no exception - they have a big impact on the aesthetics and ambiance inside your RV. Here are some key reasons you should pay attention to your camper's curtains:
Privacy - Windows let in refreshing natural light, but also expose your interior space to the outside world. Curtains allow you to control privacy and limit visibility when needed.

Light Control - During the day, curtains can block excess sunlight and glare to keep your RV cooler. At night, a full curtain closure helps limit light pollution from outside sources.

Insulation - Layered or insulated curtains add an extra barrier between your RV interior and the outdoor temperatures. This improves temperature regulation and energy efficiency.

Ambiance - Your chosen curtain style, color, and pattern set the tone for your camper's decor. Curtains help convey the mood you want for different spaces like bedrooms or lounge areas.

Personalization - Switching out standard RV curtains for custom window treatments is an easy DIY way to put your personal stamp on your mobile living space.
Considering their multi-functional importance, it's worth investing time into finding the perfect curtains for your recreational vehicle. Keep reading for tips on choosing the best options for your needs and style.
RV Curtain Basics: Types, Materials, and Customization
Before looking at specific ideas and rooms, let's review some curtain basics that apply to campers. This includes the styles and fabric options available for your RV.
Types of RV Curtains
RV curtains come in a few different styles, each with their own benefits:
Tier Curtains - These are the most common. Two panels of fabric hang vertically to cover the window. The two tiers allow you to control privacy and light gaps.

Cafe Curtains - One short and one long tier create a "cafe" look. The short tier remains stationary while the longer one pulls to cover.

Pleated Curtains - Pleats add a decorative look and also allow you to gather the curtain to the side when open.

Blackout Curtains - Thicker, lined curtains designed to block outside light, especially for bedrooms.

Roll-Down Blinds - Blinds neatly roll up and down to allow visibility and privacy as needed.
RV Curtain Fabrics and Materials
Common fabrics for RV curtains include:
Polyester - Affordable option that resists stains, fading, and wrinkles. Easy to clean.

Cotton - Natural fiber with breathable durability. Requires more care when cleaning.

Linen - Lightweight and casual in texture. Wrinkles easily but softens over time.

Microfiber - Very durable and moisture-resistant. Has a suede-like appearance.

Velvet - Elegant material with a plush pile. Shows signs of wear more over time.

Faux Silk - Mimics the look of real silk for a luxurious vibe. Budget-friendly and low-maintenance.
Consider the level of durability, light blocking, and visual appeal you want when choosing materials. Darker or lined curtains help control light and insulation. You may check our ultimate curtains fabrics guide.
Customizing RV Curtains
While many RVs come with simple white polyester curtains, you don't have to settle for the default window treatments. There are many options for finding or making curtains with colors, patterns, and styles more aligned with your personal tastes.
Purchasing custom curtains for your RV allows you to select preferred materials, sizes, colors, and embellishments. There are also ways to DIY stylish curtains using creative tricks like dyeing, adding trims or textures, displaying lighting, and more. We'll get into specific ideas in the next sections.
Customizing the curtains is an easy way to refresh the look of your RV and make it feel more homey. Don't be afraid to have some fun with it!
RV Curtain Ideas for Different Spaces
Now let's explore suggestions for curtains suited to different rooms and living spaces within your recreational vehicle.
Cozy Bedroom Curtains
Priority one for bedroom curtains is being able to block out light effectively. This allows you to create a dark, peaceful environment for sleeping. Recommended options include:
Blackout curtains - The best choice for darkness. Hang them high and wide to cover all window space.

Insulated curtains - The extra layer helps muffle noise and regulate temperature.

Roller blinds - Quick and easy full coverage for light blocking. Mount flush with the window trim.

Eye masks - Not curtains, but a good supplement for remaining gaps of light leaks.
To further the cozy factor:
Choose soft, luxurious materials like velvet, faux silk, or linen in dark, rich hues.

Layer in drapes or cafe curtains along with blackout curtains for elegance.

Add warmth with earthy patterns and textures like floral prints, embroidered accents, woven trims, or delicate sheer under-curtains.
Welcoming Living Room Curtains
Your camper's lounge space should feel open, inviting, and conducive to gathering. Seek curtains that allow you to control privacy and glare during the day without making the space feel closed in.
Tier curtains work well for versatility in regulating natural light. Choose lightweight cottons or linens in bright, positive colors and patterns.

Cafe curtains provide privacy at eye-level while allowing light through the upper glass space. Opt for cheerful gingham, floral, or checkered prints.

Roll-down blinds offer quick privacy control without overwhelming the windows. Pick bamboo, wood, or other natural slatted styles.

Sheer curtains filter light while allowing visibility and an open feeling. Try breezy styles like lace, embroidered mesh, or gauze.
Add warmth and character with layered valances, scarf swags, curtain tie-backs, wood rods, and textured linens in vibrant hues.
Cheerful Kitchen Curtains
Kitchens tend to be smaller, high-use areas of an RV, so look for durable, stain-resistant fabrics that contribute to a bright, tidy vibe.
Vinyl curtains withstand messes and are easy to wipe clean while adding retro charm.

Tier curtains in a heavy-duty fabric like canvas or denim repel water and are built to handle wear-and-tear.

Cafe curtains with a wipeable polyester or microfiber lower tier help protect vulnerable lower window space near the sink and stove.

Gingham check or fruit/veggie prints evoke a fun, farmhouse style. Opt for machine-washable cottons or poly-cotton blends.
Don't forget the tieback holders! Tiebacks help keep curtains neatly out of cooking and cleaning work zones while adding a cute accent.
Fresh Bathroom Curtains
Moisture control is the priority when selecting bathroom curtains. Look for fabrics that resist mildew and allow adequate ventilation.
Moisture-repellent vinyl curtains are waterproof and easy to wipe down. White keeps things looking cleanly.

Polyester shower curtains repel moisture well. Choose solid colors to limit visible mildew.

Microfiber and polyester tiers handle humidity while providing privacy at the window.

Roll-down bamboo blinds resist mildew. Roll fully up when showering for ventilation.
Incorporate nautical, beachy motifs like stripes, anchors, or fish prints to reinforce the aquatic atmosphere. Water-inspired blue, tan, and white color schemes feel fresh.
Purchasing Camper RV Curtains
Once you've got color schemes and materials in mind, where can you find the perfect curtains to bring your vision to life? Here are some top options:
Amazon RV Curtains
Searching Amazon opens up countless ready-made RV curtain options in a wide variety of styles. Benefits of purchasing here include:
Huge selection of styles, sizes, colors, and patterns

Ability to read reviews to assess quality

Low prices, especially for polyester tier curtains

Frequent sales and special coupon offers

Fast shipping, especially for Prime members
Be sure to measure your windows carefully first and read curtain specifications to confirm the right fit. Also check that any advertised blackout curtains truly block light effectively based on reviews.
Custom RV Curtains from Dolcewe
For high quality, one-of-a-kind RV curtains made just for you, choose custom curtains from Dolcewe. Our made-to-order curtains allow you to select:
Exact sizing to flawlessly fit your RV windows
Specialty curtain styles like tiers, cafes, pleats, and blackouts
Luxurious fabrics like velvets, linens, cottons, faux silks
The specific colors, patterns, and designs you love
Work directly with our team to bring your custom RV curtain dreams to life! Curtains start at just $26.99 with frequent sales and coupons.
RV Fabrics from Revolution Fabrics
For a DIY approach, order customizable fabrics directly from a shop like Revolution Fabrics. They carry a wide selection of both regular and speciality RV/marine curtain and upholstery fabrics.
Benefits of sourcing your own fabrics include:
Ability to handle all measuring and creation yourself

Freedom to incorporate unique embellishments like tassels, trim, ribbon, etc.

Less expensive than custom-made curtains
Just be prepared to sew or use adhesive/grommet curtain making kits. Watch online videos for DIY techniques to finish your dream curtains!
Tips for Installing Curtains in a Camper RV
Once you've purchased or created your perfect new curtains, it's time to hang them for maximum functionality and visual appeal. Follow these tips:
Mounting Curtain Rods in an RV
Standard home curtain rods often won't work in the tight spaces of an RV. Consider specialty alternatives:
Spring tension rods easily install without brackets between walls. Allow the rods to extend 1-3 inches wider than the window for optimal light blocking.

Adhesive-mount rods directly stick to surfaces around windows for quick install without screws. Hold up to 7 pounds per rod.

Suction cup rods adhere directly to windows to avoid wall mounting challenges. Release the suction cups to reposition.

Freestanding rods have solid triangular bases that sit atop surfaces next to windows rather than mount to the wall.
Measure carefully so the rod extends an optimal amount beyond both edges of the window. Mount high and as wide as possible to allow full curtain coverage when drawn.
Using Adhesive Hooks and Tiebacks
Maximize your curtains' light blocking capabilities and appearance with proper holdbacks:
Adhesive hook and loop sets stick to RV walls without screws. Use them to hold tiebacks to keep curtains fully drawn.

Tension rod clips attach tiebacks directly to spring rods for quick and easy curtain control.

Suction cup tieback knobs work on windows and mirrors to hang tiebacks where you may not be able to drill hooks.
Place two to three tieback holders around each window, ideally in both upper corners and centered at the bottom. Use hook-and-loop ties or high-quality ribbon/cording.
Installing Residential Curtain Rods
If you have the time and desire, residential-style screw-in curtain rods offer added stability for heavier curtains. Follow these RV installation tips:
Use hollow plastic anchors and screws designed for use in campers rather than standard anchors. The hollow design adheres securely even in thin RV walls.

When possible, try to hit studs for the strongest mount. Use a stud finder calibrated for RVs.

For larger windows, use two rods positioned close together rather than a single longer rod to disperse weight.

Add reinforcement brackets at the ends of rods for extra support and stability.
Take the time to properly measure and level rods to maximize functionality and the polished look of your chosen curtains.
Maintaining and Cleaning RV Curtains
To keep your camper curtains looking their best for years to come, implement regular care and cleaning methods suitable for the fabric:
Tips for Different Fabrics
Cotton and linen - Wash on a gentle cycle in cold water, then air dry. Iron while still slightly damp if needed.

Polyester and microfiber - Spot treat stains. Machine wash in cold water and air dry. Medium heat iron.

Vinyl - Wipe down with soapy water. Use vinegar solutions for stubborn buildup. Avoid harsh cleaners that can cause cracking over time.

Faux silk - Lightly spot clean only. Use cold water and mild soap if needed. Do not fully immerse.
Importance of Stain Resistance
Treat all curtains with a stain-resistant spray both before and after hanging. For kitchens and bathrooms, reapply frequently. This barrier helps repel grease, water marks, and mildew.
Look for fabrics marketed as bleach cleanable. Bleach breaks down mildew and sanitizes curtain fabric exposed to humidity and cooking grease.
Check curtains frequently for signs of visible dirt, stains, or mildew you may need to treat. Don't let too much build up over time.
Refresh and Personalize Your RV with New Curtains
Hopefully this guide has sparked ideas for choosing window treatments that reflect your style and make your RV feel like a cozy home. Measure meticulously, read reviews, and take time to properly install your curtains. With the right curtains and care, your camper will feel warm, welcoming, and uniquely you for years of comfortable mobile living.
The options for colors, patterns, materials, and styles are nearly endless, so have fun envisioning possibilities! Remember, in a compact RV space, small touches like custom curtains make a big impact. Give your windows a fresh new look and transform the ambiance in your recreational vehicle. Happy camping in your homey, stylish camper oasis!