Beyond Ordinary: Extra Wide Curtains for Modern Homes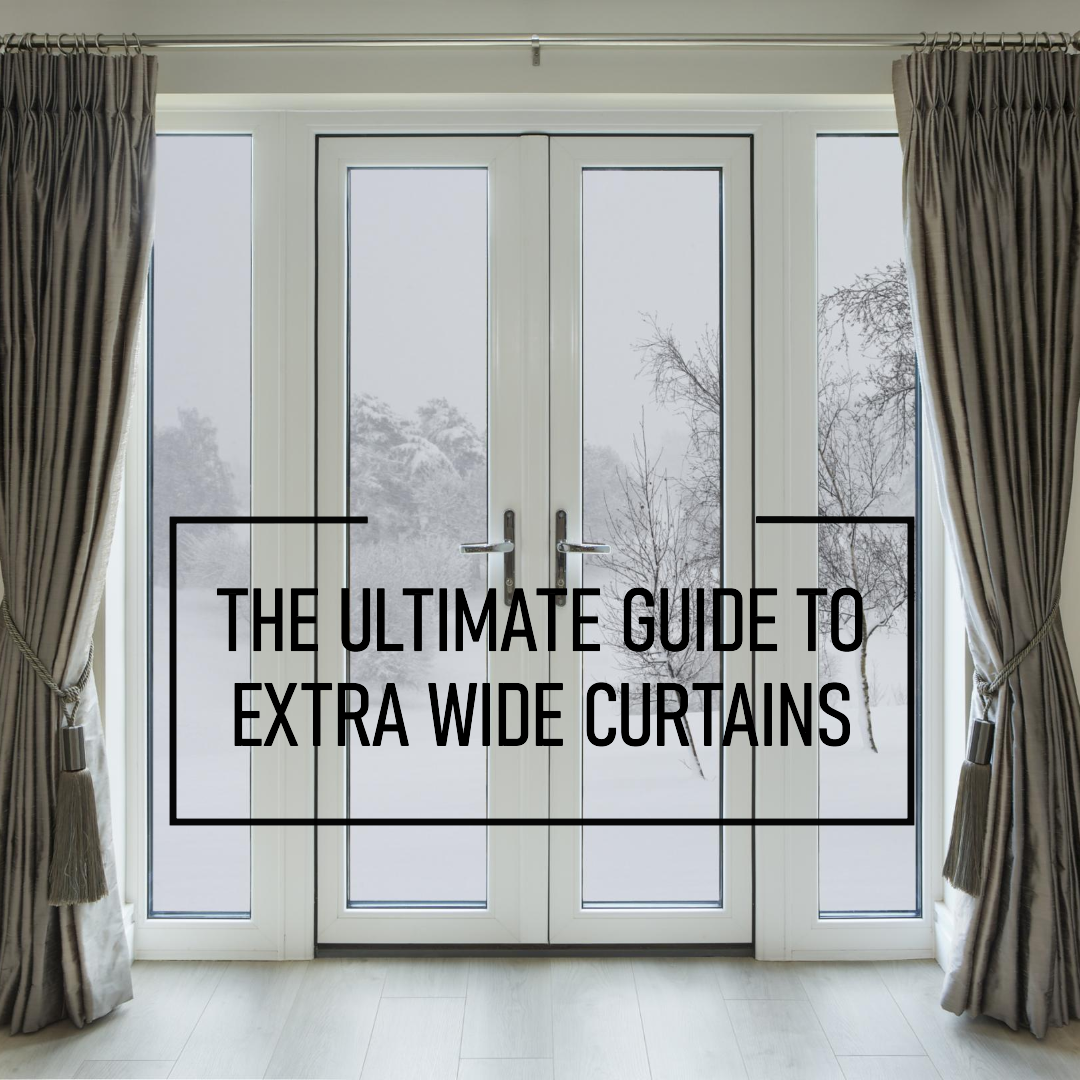 Are you ready to transform your living spaces into elegant havens of style and comfort? Look no further than the timeless charm of extra wide curtains. These exquisite draperies not only enhance the aesthetics of your interiors but also offer practical benefits that are sure to delight. Whether you're looking for room-enhancing drapery, statement window decor, or functional window treatments, extra wide curtains are your answer.
Discovering the World of Extra Wide Curtains
What is the Standard Width of Extra Wide Curtains?
When it comes to extra wide curtains, there isn't a one-size-fits-all answer. The standard width can vary depending on the manufacturer and the specific design. However, a general guideline is that extra wide curtains typically start at around 100 inches in width and can go up to 150 inches or more. These generous dimensions ensure that you can cover even the widest windows with grace and elegance.
Where Can I Find High-Quality Extra Wide Curtains?
If you're on the hunt for top-notch extra wide curtains, look no further than DolceWe.com. As a premier online store specializing in custom curtains and home decor, DolceWe offers a stunning array of options to suit your taste and style. From the luxurious collection of velvet curtains to the breezy charm of gauze curtains, you'll find the perfect drapery to elevate your space.
Are There Blackout Options Available for Extra Wide Curtains?
Absolutely! The beauty of extra wide curtains lies not only in their elegance but also in their functionality. If you're seeking privacy and light control, DolceWe.com's collection of blackout curtains is a game-changer. These curtains combine style with practicality, ensuring that your living spaces remain serene and comfortable, no matter the time of day.
How Do I Measure Windows for Extra Wide Curtains?
Measuring windows for extra wide curtains requires a bit of precision and attention to detail. Start by measuring the width of your window frame. For a full and lush look, choose curtains that are about one and a half to two times the width of the window. This allows the curtains to drape gracefully and create a visually appealing effect. Check our curtains measurement guide here.
Can I Get Custom-Made Extra Wide Curtains?
Absolutely! DolceWe.com specializes in custom curtains, giving you the freedom to tailor your drapery to your exact specifications. Whether you have unique window dimensions or a specific fabric in mind, custom-made curtains ensure a perfect fit and a personalized touch that's bound to impress.
Styling Your Space with Extra Wide Curtains
Best Places to Buy Extra Wide Curtains Online
When it comes to online shopping for extra wide curtains, DolceWe.com stands out as a trusted destination. With a wide range of collections, including cotton-linen curtains, floral-print curtains, and stylish geometric-print curtains, you'll have no shortage of options to choose from. Browse with confidence and let your creativity run wild as you curate your dream home.
Table: Styling Tips for Extra Wide Curtains
| Tip No. | Styling Tip |
| --- | --- |
| 1 | Extend curtain length to the floor for an elegant look |
| 2 | Use decorative curtain tiebacks for added sophistication |
| 3 | Consider sheer options for a dreamy ambiance |
| 4 | Opt for custom curtains for a personalized touch |
| 5 | Explore minimalist and modern curtain designs |
Styling Tips for Using Extra Wide Curtains in Large Rooms
Large rooms provide a canvas for creativity, and extra wide curtains are your artistic tools. To create a balanced look, ensure that the curtains' length extends to the floor. This elongates the visual height of the room and adds an air of grandeur. Additionally, consider complementing the curtains with decorative curtain tiebacks to frame your windows elegantly.
Are Extra Wide Curtains Suitable for Patio Doors?
Absolutely! Extra wide curtains are a fantastic choice for patio doors, infusing your outdoor-adjacent spaces with warmth and style. Opt for sheer options like gauze curtains to allow a gentle flow of natural light while maintaining your privacy. These curtains also create a seamless transition between indoor and outdoor living areas.
Table: Extra Wide Curtain Collections
| Collection Name | Curtain Options |
| --- | --- |
| Velvet Curtains | Luxurious and elegant drapery |
| Gauze Curtains | Breezy and airy window coverings |
| Cotton-Linen Curtains | Natural and textured fabric curtains |
| Floral-Print Curtains | Curtains adorned with delicate floral prints |
| Stylish Geometric-Print Curtains | Modern and chic patterns for contemporary spaces |
| Sheer Curtains | Delicate draperies that filter light beautifully |
| Blackout Curtains | Curtains with blackout technology for privacy |
| Wide Window Drapes | Drapery options perfect for wide sliding doors |
Sheer Options for Extra Wide Curtains
If you're looking to infuse your interiors with an ethereal touch, consider sheer curtains from DolceWe.com's collection. These delicate draperies filter light beautifully, creating a soft and dreamy ambiance. Whether it's a sun-kissed morning or a tranquil evening, sheer curtains add a touch of enchantment to any room.
Extra Wide Curtain Designs for Modern Interiors
For those who adore modern aesthetics, DolceWe.com's collection of wide curtain designs offers a plethora of options. From minimalist patterns to sleek textures, these curtains seamlessly integrate with contemporary interiors. Embrace the beauty of clean lines and understated elegance as you elevate your living spaces.
Bringing Elegance and Functionality Together
Affordable Extra Wide Curtains for Spacious Windows
You don't have to break the bank to adorn your spacious windows with elegance. DolceWe.com offers an array of affordable extra wide curtains that don't compromise on quality or style. Enhance your room's charm without compromising your budget.
Elegant Drapery Options for Wide Sliding Doors
Wide sliding doors deserve draperies that match their grandeur. DolceWe.com's collection of wide window drapes includes options that perfectly complement your sliding doors. These draperies not only provide privacy but also contribute to the overall aesthetic of your space.
Table: Advantages of Extra Wide Blackout Curtains
| Advantage No. | Benefit |
| --- | --- |
| 1 | Enhanced privacy and light control |
| 2 | Additional insulation for a comfortable space |
| 3 | Ideal for achieving a restful sleep |
| 4 | Stylish and functional addition to rooms |
Extra Wide Blackout Curtains for Enhanced Privacy
When privacy is of the essence, extra wide blackout curtains are your go-to solution. These curtains offer not only darkness for a restful sleep but also an additional layer of insulation. With their blackout technology, you can enjoy a serene and comfortable environment at any time of day.
Stylish and Functional Extra Wide Curtain Ideas
Let your creativity shine as you explore a myriad of extra wide curtain ideas. Combine functionality with style by opting for curtains with built-in grommets or tabs for easy installation and smooth operation. Your curtains can be both a design statement and a practical addition to your home.
Embrace the Possibilities with Extra Wide Curtains
Whether you're looking to enhance the aesthetics of your space or seeking practical solutions for light control and privacy, extra wide curtains offer the best of both worlds. From measuring windows to choosing the perfect design, DolceWe.com has you covered. Explore the world of customizability, elegance, and functionality with extra wide curtains that transform your home into a haven of style and comfort. Start your journey at DolceWe.com today!