What Curtain Styles Can I Choose from?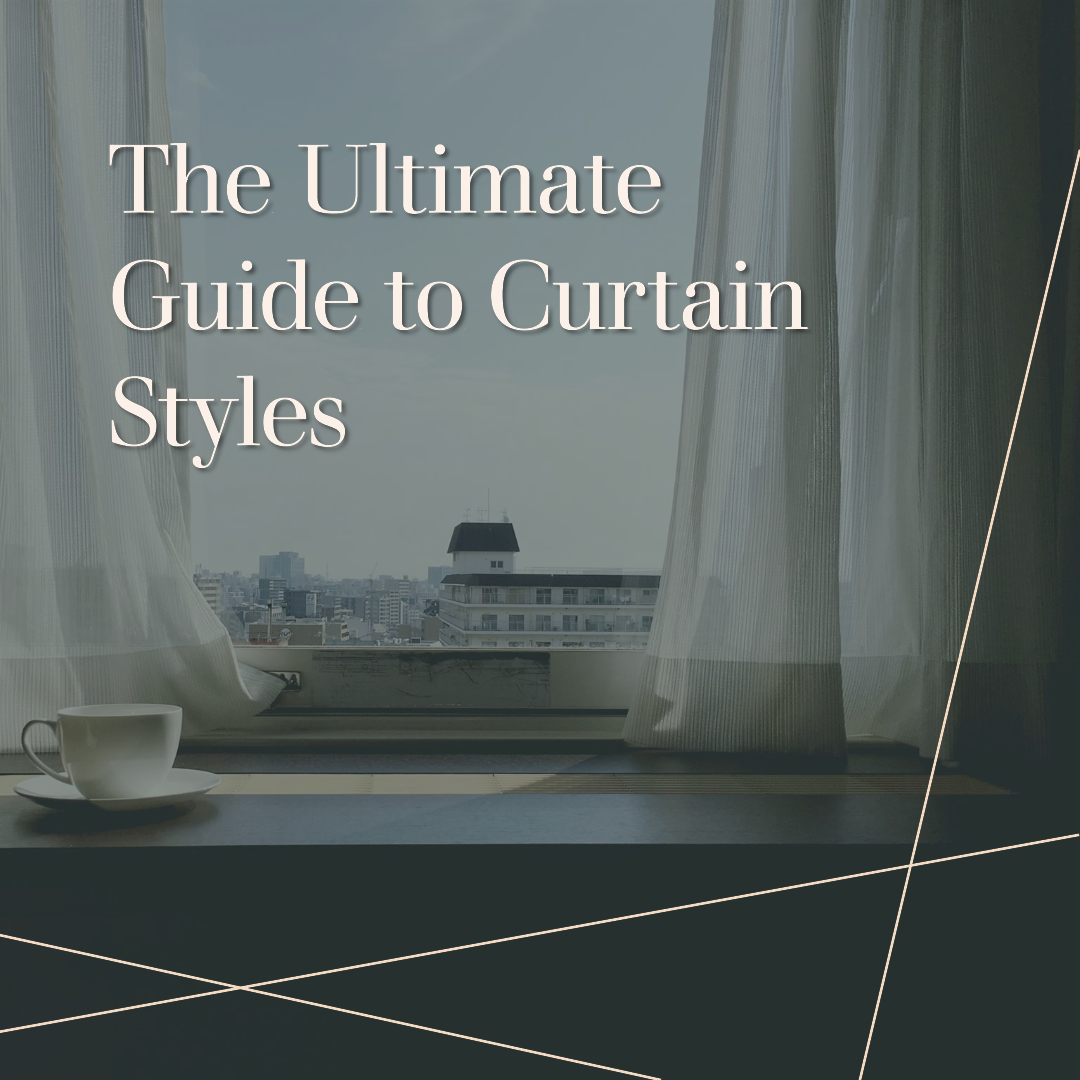 Welcome to our comprehensive curtain style guide! Choosing the perfect curtains for your windows can elevate your home decor and transform your living space. With so many curtain styles available, it can be overwhelming to decide which one is right for you. That's why we've put together this ultimate guide to help you navigate the latest trends, tips, and design ideas for curtain styles.
From traditional to contemporary, pleated to functional, we'll provide you with insights into popular curtain styles and tips on how to choose the ideal curtains for your space. Let's dive in!
Key Takeaways
Curtains can enhance the overall look and feel of your home decor.
There are numerous curtain styles available, including traditional, modern, and functional options.
Choosing the right fabric for your curtains is essential and can impact their overall performance and style.
Consider the room's purpose and decor style when selecting curtains.
With our ultimate curtain style guide, you'll have all the information you need to create a cohesive and stylish look for every space in your home.
Understanding Curtain Types
When it comes to choosing curtains, there are various types available, each with its unique characteristics and purposes. Understanding the different types of curtains is essential in determining which ones will be suitable for your home decor. In this section, we'll explore various curtain types, their design possibilities, and how to use them to uplift your home decor.
Single Panel Curtains
Single panel curtains are a simplistic and practical option. They can show off a bold pattern or fabric and provide a clean and streamlined look. Single panel curtains are compatible with a variety of curtain hardware options, such as rod pockets, grommets, and back-tabs. These curtains are perfect for small or narrow windows, French doors, or a sliding glass door.
Panel Pairs
Panel pairs are a standard option for a classic and traditional look. They are two individual panels that are hung from a single rod. Panel pairs are perfect for a setup with two windows side-by-side and are effective in keeping the light out. They can be used with various styles of curtains, including pinch pleated curtains and rod pocket curtains.
Pinch Pleat Curtains
Pinch pleat curtains are elegant and timeless. They have pleats at the top of the curtain that are pinched together to create a neat and aesthetic look. These curtains work well in traditional and formal settings. They require specific hardware, such as curtain hooks, to create the pleats.
Rod Pocket Curtains
Rod pocket curtains have a small pocket at the top of the panel that slides over a curtain rod. They provide a clean and uncluttered look and are ideal for a casual room style such as a child's bedroom or a sunroom. Rod pocket curtains do not slide smoothly, so they may require additional hardware like drapery rings to enable easy gliding.
Tab Top Curtains
Tab top curtains have loops sewn into the top of the panel that loops onto the curtain rod. They are available in various fabrics and colors and work well in a relaxed setting. Tab top curtains provide the option of showing off a decorative curtain rod since the hardware is visible outside of the loops.
Grommet Curtains
Grommet curtains have holes that are reinforced with grommets to slide the rod through. They are a sleek option and prove to be an excellent fit in modern homes. Grommet curtains work well on larger windows since they open and close smoothly without friction. They are perfect for showcasing a statement fabric, pattern, or color.
Ring Top Curtains
Ring top curtains have metal rings at the top of the panel that slide onto the curtain rod. They are easy to open and close and add a touch of sophistication to any room.
Apron Curtains
Apron curtains are a functional and stylish option for rooms that require privacy while still allowing natural light in. They're typically hung halfway up the window, allowing light to filter in through the top while still providing privacy at the bottom. These curtains are a popular choice for kitchens, where privacy is often necessary.
Cafe Curtains
Cafe curtains are another popular option for kitchens, although they can be used in any room where privacy is important without sacrificing natural light. These curtains are hung on a tension rod and cover only the bottom half of a window, allowing plenty of light in while still providing privacy. They're often made from lightweight, easy-to-clean fabrics that can be tossed in the wash when necessary.
In conclusion, curtain types vary in design, style, and functionality. Understanding the different types of curtains available will help you choose the perfect fit for your home decor. Whether you opt for traditional or modern styles, single panel curtains or panel pairs, it's essential to consider both the aesthetics and utility of the window treatment. In the next section, we'll explore classic pleated curtain styles that never go out of fashion.
Classic Pleated Curtain Styles
If you're looking for a timeless and sophisticated look, consider classic pleated curtain styles. Pinch pleat, box pleat, goblet pleat, and pencil pleat are all popular options that can add a touch of elegance to any room.
Pinch pleat curtains feature evenly spaced pleats that are pinched together at the top, creating a tailored and structured look. They work well with most fabric types and are perfect for formal settings.
Box pleat curtains have larger, more defined pleats that are stacked together, creating a more structured and modern look. This style is great for contemporary spaces and can be used in both formal and casual settings.
Goblet pleat curtains are similar to pinch pleat curtains but have a more ornate look. The pleats are shaped like goblets and create a more decorative appearance, making them ideal for formal living spaces and dining rooms.
Pencil pleat curtains feature small and tightly packed pleats that create a simple and understated look. This style works well for more casual settings and can be used with a variety of fabric types.
When it comes to pairing pleated curtains with your decor, consider the fabric texture and color. For a more formal look, opt for silk or velvet curtains in deep shades like burgundy or navy. For a more casual look, linen or cotton curtains in lighter shades like white or beige can work well.
| Curtain Style | Main Features | Suitable Settings |
| --- | --- | --- |
| Pinch Pleat | Tailored look with evenly spaced pleats that are pinched together at the top | Formal settings like living rooms and dining rooms |
| Box Pleat | Larger, more defined pleats that are stacked together | Contemporary spaces, both formal and casual |
| Goblet Pleat | Ornate pleats shaped like goblets that create a decorative appearance | Formal living spaces, dining rooms |
| Pencil Pleat | Small, tightly packed pleats that create a simple and understated look | Casual settings, a variety of fabric types |
With so many pleated curtain styles to choose from, you're sure to find the perfect look to complement your home decor. Whether you prefer a formal and structured appearance or a more casual and understated look, there's a pleated style that can work well for you.
Functional Curtain Styles
While curtains can certainly add to the aesthetic appeal of a room, they can also serve a functional purpose. Let's take a look at some of the most popular curtain styles that prioritize function over form.
Blackout Curtains
For those who crave complete darkness in their bedrooms for a good night's sleep, blackout curtains are a game-changer. These curtains are typically made from thick, opaque materials that block out light effectively. Not only do they help you sleep better, but they can also help lower energy costs by keeping rooms cool in the summer and warm in the winter.
Sheer Curtains
On the opposite end of the spectrum are sheer curtains, which let plenty of light in while still providing some privacy. They're great for adding a touch of elegance to a room while also letting in natural light. These lightweight curtains are typically made from sheer, lightweight fabrics that can be used on their own or paired with heavier curtains for a layered look.
In the picture, you can see how blackout curtains look. These curtains are no longer just a black or dark-blue curtain. There are many color options available, so you can choose the one that best suits your decor and personal style.
Curtain Styles for Different Rooms
When it comes to selecting curtains, it's important to consider the specific needs and functions of each room. In this section, we'll provide recommendations and design ideas for living rooms, bedrooms, kitchens, and bathrooms.
Living Rooms
Living rooms are often the main focal point of the house and the area where families spend the most time. The curtains in this room should reflect the overall style and design scheme, while also providing functionality. For a formal living room, consider classic pleated styles like pinch pleat or goblet pleat in luxurious fabrics like silk or velvet. For a more casual setting, try contemporary styles like grommet or ring top curtains in cotton or linen fabrics.
When it comes to window treatment ideas for living rooms, consider layering curtains with sheer panels underneath to add depth and dimension to the room. Alternatively, opt for floor-length curtains in bold patterns or prints to make a statement.
Bedrooms
In the bedroom, curtains should provide privacy, light control, and contribute to a relaxing atmosphere. For a romantic and cozy feel, try using floor-length curtains in soft sheer fabrics like chiffon or lace. For a more modern look, blackout curtains in rich jewel tones or monochromatic shades can provide the perfect contrast to a neutral bedroom color scheme.
Window treatment ideas for bedrooms can be enhanced with statement hardware like decorative curtain rods or finials. For a cohesive look, match the color or finish of the hardware to the other metallic accents in the bedroom, such as lamps or picture frames.
Kitchens
Kitchens require curtains that are easy to clean, provide privacy, and allow for natural light to enter the space. Cafe curtains, which cover only the bottom half of the window, are a popular and practical choice for kitchens. They can be hung on tension rods or decorative hardware and can be easily removed for washing or switching up the look.
Curtain styles for different rooms in the kitchen can also include apron curtains, which are similar to cafe curtains but cover only the top portion of the window. They are a great option for adding a pop of color or pattern to a neutral kitchen color scheme while still allowing for ample natural light.
Bathrooms
In the bathroom, curtains need to provide privacy, resist moisture, and be easy to clean. Sheer panels in light colors can add a touch of elegance to a bathroom space and allow for natural light while still providing privacy. For a bolder statement, try a patterned shower curtain with coordinating window curtains.
When it comes to curtain design for bathrooms, consider using tie-backs or holdbacks to create a more open and spacious feel, and opt for materials like polyester or nylon that resist moisture and mold.
Curtain Fabric Types
When it comes to choosing the perfect curtains, one of the most important decisions you'll make is selecting the right fabric. The fabric you choose can affect the overall look and feel of your room, as well as the functionality of your curtains. Here are some popular curtain fabric types to consider:
| Fabric Type | Description | Benefits |
| --- | --- | --- |
| Linen | Natural fabric made from flax fibers. Has a slightly textured, casual look. | Durable, breathable, and provides a light, airy feel. Suitable for modern and traditional decor styles. |
| Silk | Luxurious, soft fabric made from silk fibers. Has a lustrous sheen and a smooth texture. | Elegant and refined. Provides a touch of opulence and sophistication. Suitable for formal and traditional decor styles. |
| Vinyl | Synthetic material made from PVC. Has a leather-like look, available in a variety of colors and patterns. | Durable, moisture-resistant, and easy to clean. Suitable for high-traffic areas and modern decor styles. |
| Velvet | Soft, plush fabric with a dense pile. Has a luxurious look and feel. | Provides a cozy, inviting atmosphere. Ideal for formal and traditional decor styles. |
| Polyester | Synthetic material made from petroleum. Available in a range of colors and finishes. | Durable, wrinkle-resistant, and easy to care for. Suitable for modern and traditional decor styles. |
When choosing curtain fabric, consider factors such as the amount of light you want to let in, the level of privacy you need, and the overall style of your room. Some fabric types, like sheer curtains, allow more light to pass through, while others, like blackout curtains, provide maximum privacy and light control.
Modern curtains come in a variety of materials, and each option can cater to different usage, budget, and style preferences. Consider the function, maintenance requirements, and durability of each fabric type to determine the best option for your home.